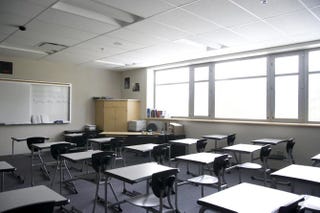 A mother says that on Tuesday, while she and her family were taking her 12-year-old son, Brandon Pearson, to school for his first day at Huntington K-8 School in Syracuse, N.Y., they stopped to take photos of him inside the school at a hallway mural. That is when a school security guard walked over to tell the boy what he thought would be a better pose for him. 
Brandiss Pearson told Syracuse.com that the guard said, "Wait, wait, wait, hold on." He had Brandon, who has Down syndrome, turn and face the wall. The guard, who is white, then lifted the boy's arms above his head.
"And he starts laughing and says, 'Now take the picture; he's in the right position,' '' Pearson recalled.
Brandon had been posed in a frisk position.
Brandon kept smiling. The "joke" didn't translate to him, but his family understood the meaning well.  
"I was shaking, just like fire-breathing mad," Pearson, who is a registered nurse, told the news site. ''All he saw was a little black boy who needed to assume the position.''
Later that day, Pearson reported the incident to the school's principal. On Wednesday she confronted the guard, who told her he thought it was a "funny joke."
According to Syracuse.com, school officials have suspended the guard and are investigating the mother's complaint.
"The school district has begun an internal investigation into the alleged complaint," Michael Henesey, coordinator of communications for the school district, wrote in a statement viewed by the news site. "The school sentry [guard] in question has been placed on administrative leave while the district conducts the investigation. We will not be releasing any more information at this time."
Read more at Syracuse.com.