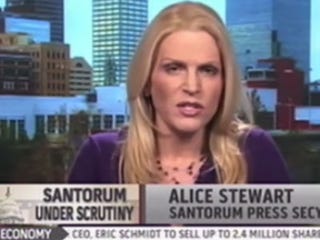 Rick Santorum's press secretary, Alice Stewart, says it was an accident when she accused President Obama of having radical Islamic policies, according to Gothamist.

Stewart appeared on MSNBC Monday for an interview to discuss Santorum's comments about Obama and his "phony theology."

As she kept talking about Obama's policies, she slipped up and said "Islamic" when talking about environmental policies.
Check out the video below.
Read more at Gothamist.
Like The Root on Facebook. Follow us on Twitter.