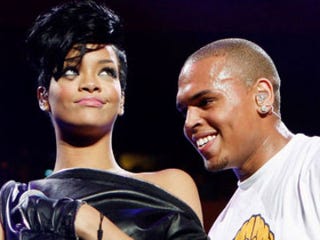 Well, it looks like the rumors had a basis in reality: The Guardian reports today that Rihanna and estranged boyfriend Chris Brown have, in fact, been making music together. Remixes of Rihanna's "Birthday Cake," featuring Brown, and Brown's new single, "Turn Up the Music," featuring Rihanna, appeared online today.
The new songs are a source of surprise and concern for many who'd hoped Rihanna had permanently severed ties with her fellow R&B star after he assaulted her prior to the Grammy Awards in 2009 and recently confirmed his unrepentant attitude with a post-Grammy tweet: "HATE ALL U WANT BECUZ I GOT A GRAMMY Now! That's the ultimate F—- OFF!"
We're not sure whether these collaborations are meant to solidify that message (and why Rihanna would be interested in participating), but you can listen to them here:
Read more at the Guardian.
Like The Root on Facebook. Follow us on Twitter.