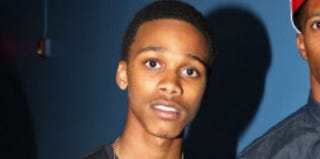 Multiple sources are reporting that 18-year-old rapper Lil Snupe of Meek Mill's Dream Chasers Records has died after being shot earlier this week. A writer for AllHipHop.com wrote this morning, "Now, I am hearing that he has been found dead. I don't have a lot of details, but I heard he was shot by some haters. But, the young spitter is no longer here … "
From the Huffington Post:
A manager for the emerging talent, who had recently signed with Meek Mill's Dream Chasers label, announced the news via his Twitter page. "The call I got this morning is un real RIP 2 my Lil nigga lilsnupe," manager Leem7st wrote on June 20, while also sharing a photo of him with the young MC.

Friends DJ Smallz and Louie V Gutta also appeared to confirm the news of the young rapper's passing, sharing their condolences on Twitter, writing "RIP" and "I aint gone lie i cant stop crying! I Can't Believe My Youngin Gone!"
Read more at the Huffington Post.