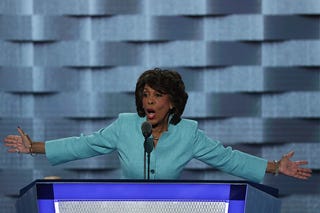 Rep. Maxine Waters (D-Calif.) has a lot of things going on, what with basically being one of the few members of Congress willing to fight the current administration tooth and nail and calling it out on all its bullshit. So it's quite obvious that she doesn't have time for Bill O'Reilly or his shenanigans trying to come for her hairstyle. She's got way bigger fish to fry.
And Waters made that explicitly clear, appearing on MSNBC's All in With Chris Hayes on Tuesday night to set the record straight on the whole thing.
When asked if she would like to respond to O'Reilly's comments, Waters casually brushed them off like the flecks of dust they are.
"I am a strong black woman and I cannot be intimidated, I cannot be undermined, I cannot be thought to be afraid of Bill O'Reilly or anybody," the congresswoman said.
O'Reilly caught the heat Tuesday after daring to come for Waters' looks, saying that he couldn't hear a word she said with that "James Brown wig." Yes, let's totally disregard everything a woman is saying because of her hair. The sexism present in that statement is mind-blowing. Or maybe it isn't. This is O'Reilly, after all.