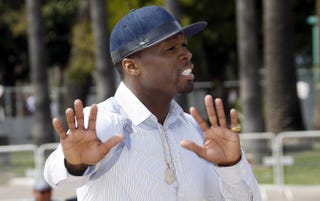 Looks like 50 Cent is going to have to fork over $16 million.
That's because the rapper turned mogul was supposed to produce a line of headphones with Sleek Audio but reportedly snagged design secrets from the Florida company and used them to create his own headphones, the Miami Herald reports.
According to a recently unsealed court documents viewed by the Miami Herald, 50 Cent, whose real name is Curtis Jackson, has been ordered to pay $11.6 million in damages for misappropriation of trade secrets, unjust enrichment and breach of confidentiality; and $4.4 million in legal fees and expenses. The amount of the award had been kept confidential.
After seeing the success of Dr. Dre's "Beats by Dre" headphones, 50 Cent and Sleek Audio teamed up in 2011 to create and market a line of over-the-ear wireless headphones to be called "Sleek by 50."
The Herald says that the rapper and the audio company split ways without every making or marketing any headphones.
The Herald reports that an arbitrator ruled that 50 Cent stole designs from Sleek Audio headphones to make his own lines, "Street by 50" and "Synch by 50."
A federal court in Miami agreed with the arbitration and awarded Sleek Audio $16 million, an amount that 50 Cent tried desperately to keep sealed, according to the Herald.
Read more at the Miami Herald.