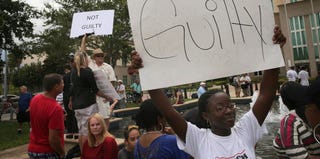 Demonstrators gathered peacefully around the nation early Sunday to express disappointment over George Zimmerman's acquittal in the death of the unarmed 17-year-old Trayvon Martin nearly a year ago in Sanford, Fla., according to various media outlets. In Florida, there were pockets of small peaceful gatherings throughout the state.
The Washington Post reports that marchers took to the streets of some of Washington, D.C.'s liveliest night spots to demonstrate their disappoint over the verdict.
Pumping fists and carrying placards, they marched down U Street NW, into Adams Morgan and then on to Columbia Heights, with their numbers swelling in the hours after midnight, as they chanted "No justice, no peace," and "Trayvon, Trayvon."

Although the protesters went down streets that normally carry considerable traffic, it appeared that they caused little disruption. Police maintained a presence behind and ahead of the impromptu march.

One placard read: "Stop criminalizing black men." Another said "Trayvon We Will Never Forget You." Still another read: "Only White Life is Protected in America."
Meanwhile, Fox News reports that protesters also gathered in four California cities and marched peacefully.
In San Francisco, raucous, yet peaceful protesters marched on the city's Mission District neighborhood; while about 200 in Los Angeles convened for a vigil in Leimart Park, or the city's historically black neighborhood. City News Service in Los Angeles said, at one point, a smaller group halted an Expo Line train, somewhere within the city, but police could not immediately confirm details of that account.

Los Angeles Police Department Lt. Andy Neiman said another group of 50 to 100 demonstrators marched around midnight.

"There was a period where crowds were running among vehicles, but police dissuaded them," he reportedly said, although he added that he knew of no arrests.

Meanwhile, in Oakland, police reported about 100 people protested, with some among the crowd breaking windows and starting fires in the streets. As the protest eventually fizzled, the office of police information added that it had no word of any arrests as of 2 a.m., PST …

In Sacramento, more than 40 people gathered at City Hall, and the Sacramento Bee reported protesters riotously chanting: "What do we want? Justice. When do you we want it? Now. For who? Trayvon." Meanwhile, a banner unfurled behind the speakers read, "No justice, no peace!" as the crowd cried out in unison.
In Milwaukee, the Journal Sentinel Online reports that at least one person was arrested in the aftermath of two separate protests.
After the verdict was an[n]ounced Saturday night, a protest with about 40 people formed in Milwaukee at about 10:30 p.m. around N. Fratney and W. Locust streets, and the group dispersed after about a half hour with no one arrested, Milwaukee police said.

Ano[t]her protest, with 50 to 75 people, formed at about midnight around N. Hopkins and W. Hampton streets, police said. One person was arrested on charges of resisting and obstructing an officer.
Read more at the Washington Post, Fox News and the Journal Sentinel Online.