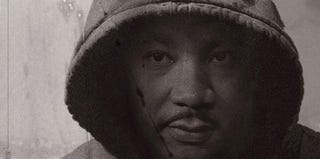 Since Saturday, many images have sprung up over the Internet in support of Trayvon Martin's family. However, there's one image that centers on a deeper message, and it's having a big impact on social media.
According to the Huffington Post, a powerful image of Martin Luther King Jr. wearing a hoodie has gone viral. Believed to be the work of artist Nikkolas Smith, the picture summarizes the "link between the case, the Civil Rights Movement and the fight for racial equality in the United States, showing Dr. Martin Luther King Jr. wearing a hoodie."
The hoodie 17-year-old Martin was wearing the night he was killed became a symbol of the movement to see justice done early on in the case, with celebrities, pastors, politicians and even sports teams tweeting and Instagramming powerful images of themselves donning hooded sweatshirts.

The hoodie remained an enduring symbol of support for Trayvon throughout the trial and in the wake of the verdict. On the Sunday morning after Zimmerman's acquittal, black pastors honored the teen with "Hoodie Sunday," wearing hooded sweatshirts and spreading an uplifting message to their congregants.

Read more at the Huffington Post.