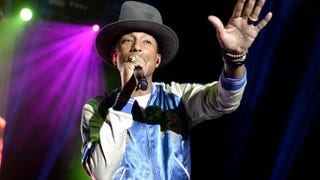 Fashion icon and superstar musician Pharrell Williams is teaming up with Adidas for the first Adidas Originals x Pharrell Williams collection, expected to be launched this summer.
"I am truly thrilled to work with Pharrell," Dirk Schoenberger, the global creative director of Adidas Sport Style Division, told the New York Daily News.
"He is a pop-culture icon that never fails to inspire, not just through his musical talent and craft, but through his many other interests," Schoenberger said. "He is the perfect fit for the multifaceted company that is Adidas."
Some of the designs are expected to incorporate Bionic Yarn—a sustainable material that is spun from recycled plastic bottles. Williams is an ambassador for the product and an investor in it. Bionic Yarn fibers have been used in applications including home design and a limited-edition range of denim for Topshop, the Daily Mail reports.
"From the classic track suit to growing up in Virginia wearing Stan Smiths, Adidas has been a staple in my life," the Grammy Award-winning singer said. "Their pieces are timeless. This is an exciting partnership for both me and for Bionic Yarn."
Recently, Williams's fashion choice became all the talk when he wore a park ranger-inspired hat to the Grammys, but this isn't his first fashion rodeo. In 2005, the singer co-founded the label Billionaire Boys Club.  He's also working on a unisex fragrance for Comme des Garçons and is creating a line of limited-edition T-shirts with the Japanese brand Uniqlo. Williams has previously worked on limited-edition products with G-Star, Comme des Garçons, Moncler and Louis Vuitton.
Read more at the New York Daily News and Daily Mail.