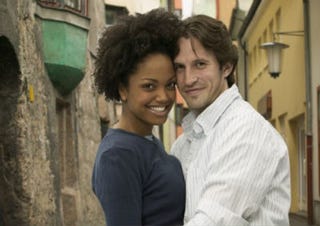 In her Chicago Tribune column, Dawn Turner Trice writes that women in the Windy City seemed eager to learn more about Ralph Richard Banks' controversial solution to their relationship woes during his recent visit. The author of Is Marriage for White People? How the African American Marriage Decline Affects Everyone suggests that black women date and marry outside of their race.
… "I've heard from more than one person who has said it's another attempt to blame black women," said Banks, a Stanford law professor. "They say, 'We've heard this before. I'm so tired of that.' One woman told me, 'I'm going to avoid your book like the plague!'"
But that wasn't the response last week when he addressed about 90 people at the artsy Experimental Station in the Woodlawn neighborhood. Successful black women, many in their late 30s and beyond, dominated the audience. […]
He said studies show black women are least likely of any group to date interracially, but they should relinquish the notion that they have to rescue the brothers, or save the race. They should explore the rainbow, as quite a few of their black male counterparts have done.
Read Dawn Turner Trice's entire column at the Chicago Tribune.