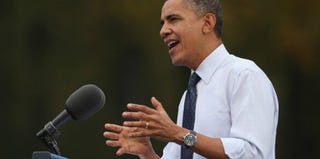 WHITE HOUSE
Office of the Press Secretary
FOR IMMEDIATE RELEASE
DAILY GUIDANCE AND PRESS SCHEDULE FOR
MONDAY, OCTOBER 22, 2012
In the morning, the president will depart from Camp David en route Boca Raton, Florida. The departure from Joint Base Andrews will have out-of-town travel pool coverage and the arrival at Palm Beach International Airport will be open press.
In the evening, the president will participate in the third presidential debate at Lynn University. The first lady will also attend. The event is open to pre-credentialed media.
The president and the first lady will remain overnight in Boca Raton, Florida.
Like The Root on Facebook. Follow us on Twitter.