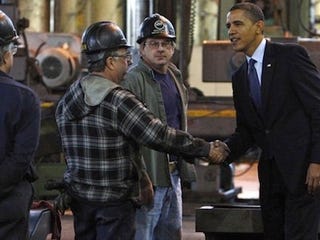 A sea captain guiding a ship through a bad storm is how President Obama describes himself in these tough economic times. But the storm may be clearing up a bit: Obama believes that the unemployment rate could hit 8 percent by next fall's elections — for the first time since January 2009.
"I think it's possible," Obama told CBS' 60 Minutes. "But … I'm not in the job of prognosticating on the economy. I'm in the job of putting in place the tools that allow the economy to thrive and Americans to succeed."
In the interview that is scheduled to air this Sunday night, Obama said that while he may be guiding the ship, he will always receive the blame as long as the boat is rocking and people are getting sick. He also said that he doesn't control the weather and considers the country's economic issues a "long-term project" that a future president will probably have to deal with, too.
Click here to view a preview of the 60 Minutes piece.
Read more at Business Week.