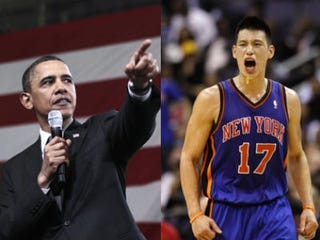 They're both Harvard grads and racial trailblazers who seemed to rise from obscurity to capture the nation's attention. It's no surprise that President Obama is a fan of New York Knicks star Jeremy Lin.
The Washington Post reports that the president (a longtime basketball fan who even coaches his daughter's team) has watched Lin play, and like the rest of us, he's impressed.
President Obama has watched the New York Knicks' guard play and marveled at the highlights of Lin's game-winning heroics in a last-second victory over Toronto on Tuesday night, White House press secretary Jay Carney said.
Asked about Lin, Carney told reporters traveling aboard Air Force One with Obama to an appearance in Milwaukee that Obama had talked about Lin with Carney and Communications Director Dan Pfeiffer aboard the president's Marine One helicopter to Andrews Air Force Base on Wednesday morning.
"If anybody caught the highlights from last night, they were pretty breathtaking. It's just a great story and the president was saying as much this morning," Carney said. "It's a great story and yes, he's very impressed and fully up to speed. I know he's watched Lin play already and he had seen the highlights from last night's game."
Read more at the Washington Post.
Like The Root on Facebook. Follow us on Twitter.