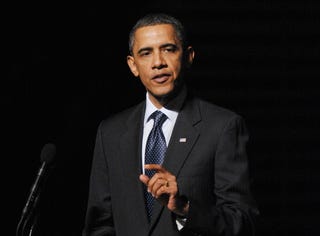 MSNBC is reporting that President Barack Obama and his Chinese counterpart, Hu Jintao, will confront stubborn rifts over North Korea and bilateral economic imbalances on Wednesday when they meet during a formal state visit. The two have vowed greater understanding and cooperation between the world's two largest economies in an effort to bridge the strains of the past year over human rights, Taiwan, Tibet and the gaping U.S. trade deficit with China. U.S. Secretary of State Hillary Clinton said in an interview with the Today show that the U.S. was looking for common ground with China "wherever we can find it."
Some Americans blame China for the high unemployment rate in the U.S. Others took issue with China initially cold-shouldering the U.S. on climate change, doing very little to reel in its unpredictable ally North Korea and its limp response to U.S. pleas to mitigate trade imbalances. This state visit is a test run to see just how well the U.S. and China can communicate and work together.
Time will tell if these bold goals and objectives will be achievable. In order to have a fighting chance, everyone has to be on board. House Speaker John Boehner skipping the state dinner does not bode well for the support that Obama and Clinton will need to even attempt to improve relations with China.
Read more at MSNBC.
In other news: South Carolina Boy, 14, Kills Father and Great Aunt; Wounds Grandmother.