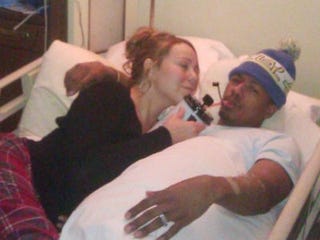 Entertainer Nick Cannon is speaking out after he suffered a kidney ailment that threatened his life two weeks ago. The America's Got Talent host was admitted to a hospital after he suffered mild kidney failure. He spoke on Howard Stern's SiriusXM radio show about the ordeal.
"They thought it was kidney stones, then a kidney infection," Cannon told Stern, who will be joining him on the upcoming season of AGT as a judge. "They found out my kidneys were not functioning well. So we said 'mild kidney failure.' "
While he may be out of the hospital, Cannon isn't done receiving medical treatment yet. He said he still has to undergo a few more procedures.
"I'm good. I'm feeling 100 percent … Because of this situation I know that I don't need to go so hard," said Cannon. "It's more about just my way of living … It's really about taking some time."
We wish Nick Cannon all the best in his recovery.
Read more at MSNBC.
Like The Root on Facebook. Follow us on Twitter.