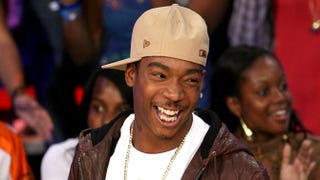 MTV seems to have learned a thing or two from VH1 and rapper T.I. about having a hip-hop superstar-turned-family man spearhead a reality show.
According to Variety, MTV has signed off on a half-hour reality show that will chronicle Ja Rule's home life with his wife, mother-in-law and three kids.
The press statement that Ja Rule released about the show seems to be pretty indicative of the tone and parenting style viewers can expect: "Family tradition will never be the same, bitch … lmao!!!"
MTV described how Ja Rule's rapport with his family members reminded them of Bill Cosby's style of parenting on The Cosby Show.
"Ja Rule is the modern-day reality rap-star version of Bill Cosby's role from The Cosby Show. He embraces a unique parenting style with his teenage kids that feels fresh and funny," said Susanne Daniels, MTV's president of programming.
Queen Latifah and Ja Rule's longtime business partner, Irv Gotti, will serve as executive producers. The show does not yet have a premiere date.
Read more at Variety.