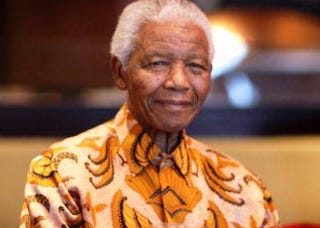 The first black president of South Africa, Nelson Mandela, has been hospitalized for tests relating to an existing abdominal condition, according to the New York Times. South Africa's current president, Jacob Zuma, made the announcement.
"Madiba has had a long-standing abdominal complaint, and doctors feel it needs proper specialist medical attention," the statement said, using Mandela's honorific clan name. He is expected to be discharged Sunday or Monday, said Zuma. A spokesman for Zuma said that this was a preplanned admission, and not an emergency.
The South African military, which had taken charge of Mandela's health care after he was hospitalized last year, said that it would have no statement Saturday.
Mandela, who battled apartheid and spent 27 years in prison under a white minority government, is 93 years old. His health has been watched closely for the last two years. His last public appearance was in 2010 at the final game of the World Cup in Johannesburg.

Mandela went through another health scare early last year, during which many feared that he was near death. However, he exited the hospital after two days.
We wish Mandela the best in his recovery.
Read more at the New York Times.
Like The Root on Facebook. Follow us on Twitter.