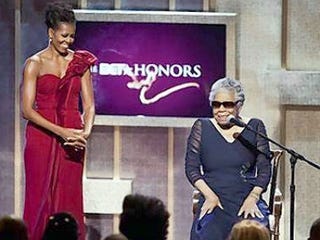 First lady Michelle Obama made an appearance at last night's BET Honors in Washington, D.C., to present poet Maya Angelou with an award. The first lady, in a crimson one-shoulder gown, was one of many black celebrities attending the event — including Stevie Wonder and Mariah Carey — who called on the community to engage in more civic action, starting with the 2012 elections.
"It is not enough merely to seek greatness for ourselves; we must help others discover greatness within themselves. We need to reach down and reach out, and give back and lift others," she said. Obama presented the Literary Arts Award to Angelou.
Others honored at the show were filmmaker Spike Lee, Tuskegee Airmen and University of Texas track coach Beverly Keane.
Read more at the Chicago Tribune.