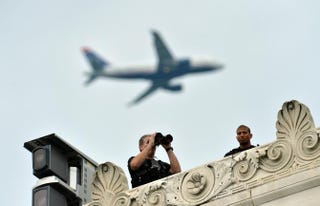 A handful of members of the Secret Service have landed in trouble after enjoying a trip to the Netherlands, where they were supposed to be protecting the president, a tad too much.
According to New York's Daily News, three agents who were in the Netherlands ahead of President Obama were sent home after hotel employees found one of the security detail drunk and blacked out in the hotel hallway on Sunday morning.
Secret Service spokesman Ed Donovan, who said that the agents were sent back for "disciplinary reasons," said that the discovery took place just before Obama's arrival to the country on Monday and did not compromise his security in any way.
Hotel staffers notified the U.S. Embassy, which in turn called the Secret Service director and other supervisors, the Daily News notes. The two other agents, who were not found drunk, were sent home because they did not prevent the embarrassing incident.
"It wasn't like a big, crazy party," a source told the Associated Press, the Daily News notes.
This incident puts yet another dark mark on the service detail, which, back in 2012, sparked outrage after they were discovered drinking and soliciting prostitutes during a trip to Colombia when they were supposed to be prepping for the president's arrival for a summit.
That situation resulted in 10 agents losing their jobs and a series of investigations. Then-Director Mark Sullivan retired in February 2013, after 3 decades of service.
Read more at the Daily News.