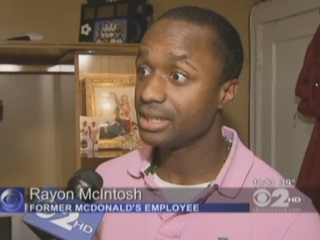 During an apparent burglary at a New York McDonald's, employee Ray McIntosh — who previously spent 11 years in prison for manslaughter — beat two women with a metal pipe after they chased him behind the counter. When the shocking video went viral, there was an intense debate over who was to blame. Now the two women are facing felony charges for their role, and he's giving his side of the story.
An attorney for the women says that McIntosh's behavior war morally unjustified, and he can't understand why McIntosh is not facing charges. McIntosh says that he acted on instinct to defend himself. Could it be that they were all out of line? The video, courtesy of CBS New York, contains footage of the original incident as well as McIntosh's response to the latest developments:
Read more at CBS News.