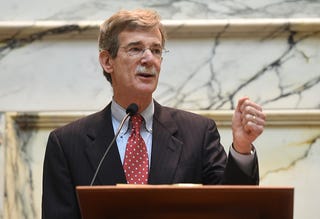 The "Free State" of Maryland on Friday became the fifth state to join a legal challenge seeking to block the Trump administration's revised "Muslim ban" in court. More than two dozen lawsuits were issued against the original Jan. 27 travel ban.

Maryland Attorney General Brian Frosh said his office would formally join a suit filed by Oregon, Washington and Minnesota on Monday, according to Reuters. Hawaii has a separate case pending against the new ban.

"The administration persists in an effort to implement a policy that is inhumane and unconstitutional, but also makes us less safe, not more safe," Frosh said in a statement.
"Trump's second executive order is still a Muslim ban," Frosh added.