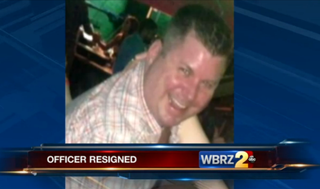 An officer with the Baton Rouge Police Department in Louisiana resigned under fire this week after a string of bigoted text messages he wrote about blacks were released to authorities, WBRZ-TV reports.
"They are nothing but a bunch of monkeys," one text read, according to the report. "The only reason they have this job is the n—ger, n—ger in them."
Another text read, "I wish someone would pull a Ferguson on them and take them out. I hate looking at those African monkeys at work. … I enjoy arresting those thugs with their saggy pants."
The NAACP's Louisiana state president, Ernest Johnson, told the television station earlier this week that the organization would not tolerate the language and called for the officer's resignation.
By Thursday morning, Chief Carl Dabadie said Officer Michael Elsbury had resigned. The officer had been placed on administrative leave shortly after 6 p.m. Wednesday.
Elsbury had served 15 years with the Baton Rouge Police Department. He had no prior disciplinary history, according to the department.
Elsbury's text messages were sent to someone outside the police force.
Read more at WBRZ.