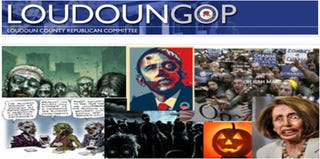 Digital Journal is reporting that the Loudoun County Republican Committee's communications director, Robert Jesionowski, has resigned from his position. The resignation comes on the heels of a report that top Republicans in Virginia are strongly condemning the Halloween-themed graphic circulated by the committee that depicted President Obama as a zombie with a gunshot wound to his head.
Loudoun County GOP Chairman Mark Sell has apologized for the ghoulish image of Obama, which was featured in a mass email that the committee sent to supporters, inviting them to a Halloween party. The graphic, featured on the email header, also included photos of a disfigured House Democratic Leader Nancy Pelosi and a throng of flesh-hungry zombie Obama supporters.

The image of Obama, which features a large, bloody gunshot wound above his right eye, was first reported Monday by Too Conservative, a right-leading Virginia political blog that accused Loudoun County Republicans of going "WAY too far." Other top Republicans in the state quickly agreed. "The disgusting image used today on a mass email has no place in our politics," Pat Mullins, chairman of the Republican Party of Virginia, said in a statement to reporters, according to the Washington Post's Anita Kumar. The party, he said, "condemns the image and its use in the strongest possible terms."
Republican Virginia Gov. Bob McDonnell, through a spokesman, called the graphic "shameful and offensive" and called on the committee to apologize.
We don't know why the GOP is feigning surprise that this photo was produced and circulated. This is what happens when you cultivate relationships with zealots in order to win elections. Now the inmates are running the asylum, and the GOP can't regain control. Jesionowski's poor judgment is just a symptom of a sick social disease: hate. 
Read more at Digital Journal.
In other news: Occupy Wall Street: Now Lets Focus on Solutions.