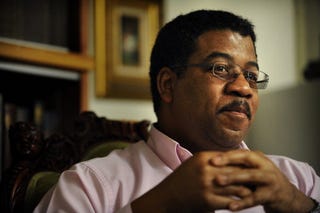 Editor's note: For Black History Month, The Root is speaking to the relatives of our most cherished African-American heroes in a series called Living With History. To open the series, we interviewed a descendant of Frederick Douglass and Booker T. Washington. Last week we did a Q&A with the descendants of Ida B. Wells. Today we feature Arthur McFarlane II, the great-grandson of W.E.B. Du Bois, co-founder of the National Association for the Advancement of Colored People, sociologist, author, scholar, historian and civil rights activist. We spoke to McFarlane about how Du Bois' legacy inspired his career and what the world needs to know about him.

On March 2, 1958, about 2,000 people gathered at the Roosevelt Hotel in New York City to celebrate W.E.B. Du Bois' 90th birthday.
At the party, he gave a speech among his family members, friends and admirers, addressing his 2-month-old great-grandson, Arthur McFarlane II:
You will soon learn, my dear young man, that most human beings spend their lives doing work which they hate and work which the world does not need. It is therefore of prime importance that you early learn what you want to do, how you are fit to do it, and whether or not the world needs this service.
Although McFarlane was too young to grasp his great-grandfather's advice at the time, his life's work embodies the words Du Bois spoke to him that day.
He didn't become conscious of his connection to Du Bois until he was in elementary school, and when he decided to follow in his great-grandfather's footsteps, he was overwhelmed.
"It felt like a burden; it felt difficult because he was such a huge figure and did so much at such a young age," McFarlane told The Root. "I really felt like I had to live up to that reputation and I had to do things in the community that would make the community better."

McFarlane realized that he didn't have to do exactly what Du Bois did, but he did need to know what was going on in the black community before he could create his own path. In high school, this quest opened his eyes to the inequalities between black and white people in America.
"I just became more political and really started to speak out and use that place in black history as a pulpit, and that's basically where I've been ever since. And it's really given me a voice," he said.
As the first African American to receive a doctorate from Harvard University and author of the classic book The Souls of Black Folk, Du Bois used his voice to contribute to the national discussion on race in America, particularly through the 21 books he wrote, 15 books he edited and over 100 essays he published.
Last week the world was reminded of Du Bois' achievements when Twitter had to teach the U.S. Department of Education how to spell his name after the agency misspelled it while quoting him in a tweet.
"Education must not simply teach work – it must teach life. – W.E.B. DeBois," the department posted on Feb. 12.
Thousands of Twitter users responded with emojis, GIFs and 140-character roasts to set the feds straight.
Soon after, the Department of Education posted an apology, which also included a spelling error.