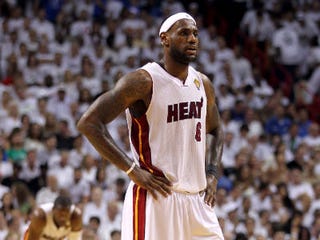 In a gym where he played basketball as a kid, LeBron James cut the ribbon today to open a new Boys & Girls Club clubhouse. The facility at an Akron Boys & Girls Club was renovated with $240,000 that LeBron donated through his family foundation, and was named in his honor.
Founded in 2004, the LeBron James Foundation aims to "empower children and single-parent households through innovative programming and initiatives, strengthening the ties between family members and building hope through education, physical fitness and better health for those who are dealing with adversity."
The Miami Heat forward said that he was humbled to be able to help area youths and promised to continue giving back to a city that will "always be home no matter where I am." James, who attended Akron's St. Vincent-St. Mary High School, will also be inducted into its athletic Hall of Fame today. James said he was overwhelmed by the honor.
We think he also deserves a place in a Hall of Fame for athletes who never forget to reach back and help others.
Read more at the Washington Post.
In other news: Amy Holmes to Anchor on Glenn Beck's Network.