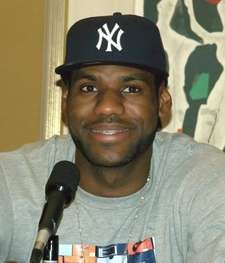 In the summer of 2010, Cleveland Cavaliers star LeBron James will be an unrestricted free agent.
For the better part of two years, it has been speculated that James would bolt to the New York market and resuscitate the tragically inept Knicks franchise, one that seems to have done nothing other than clear cap space to make a run at the superstar.
Will it happen?
James for his part has remained mum. Perhaps his most recent shoe is doing the talking?
A few have pointed out that LeBron coming out with New York-themed sneakers is nothing new and thus nothing to worry about.
The Buzz says "Hmmm…"