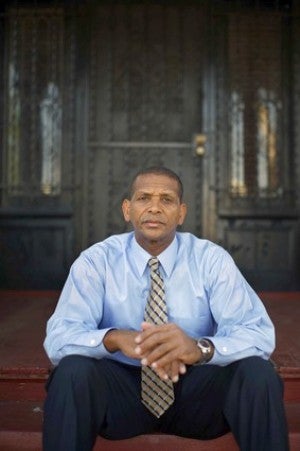 LAPD Violates One of Their Own
A 25-year veteran of the LAPD is in the midst of appealing a lawsuit against his employer, the LA Times reports. Randolph Franklin, wants to know why a SWAT unit came to his home and searched it nearly three years ago. The LAPD claims it was an honest mistake in the course of police work, but Franklin feels it stems from clshes he has had in his time on the force. Franklin is something of a Frank Serpico in that, as a by-the-book officer, he has taken fellow officers to task on numerous occasion and feels that the search was retaliation for violating the unwritten code of the shield.
Studies in Virtuosity: Basketball and Jazz
In a video interview with William C. Rhoden of the New York Times, jazz great Wynton Marsalis discusses the relationship and similarities between round ball and jazz. An avid hoops fan, Marsalis cites, among other things, virtuousity and evolution of each respective form that illustrate the kindred link between each art form.
Chris Brown and His Peoples' Can't Keep Hands to Themselves
CNN reports that a photographer is suing the singer and his bodyguards for allegedly smacking him around outside a fitness center where the photog had taken his picture. Robert Rosen claims that, on March 13, he snapped a photo of Brown playing basketball in an LA Ftiness gym. Despite caliming he was a member of the gym, Rosen alleges that Brown's bodyguards chased him down and roughed him up. Brown's lawyer says that the charges brought are frivolous and they will be defended against vigorously.