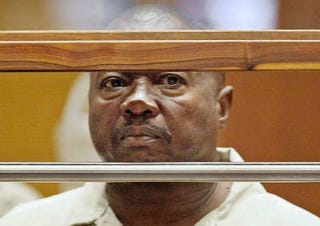 The Los Angeles Times is reporting that police have renewed their call for help from the public to identify possible victims of alleged serial killer Lonnie Franklin Jr., who is known as the Grim Sleeper.
During a community meeting at a Bethel A.M.E. Church in South Los Angeles on Wednesday, Police Chief Charlie Beck provided information about six additional women believed to be victims of the killer, who was dubbed the Grim Sleeper after it appeared that he had taken a 13-year break. He is now believed to be responsible for 16 slayings, the Times reports.
Franklin, suspected of being the so-called Grim Sleeper, is already charged with murder in the slayings of 10 women whose bodies were found on the streets of South Los Angeles over two decades.
Police Chief Charlie Beck and others urged those in attendance and the media to help police identify women in photographs discovered at Franklin's home. Last year, police published the faces of the roughly 180 women. They are still trying to identify 48 of them.
"We may never know how many young women Lonnie Franklin killed," Beck told the crowd, "but we are going to do all we can to find out."
Law-enforcement officers are making a yeoman's effort to identify the women found in photographs at Franklin's home. The community may be able to help. Just because some of the women reportedly worked as prostitutes and were drug addicts does not mean they should be forgotten in death.
Read more at the Los Angeles Times.
In other news: One More Time: 'Is Marriage for White People?'