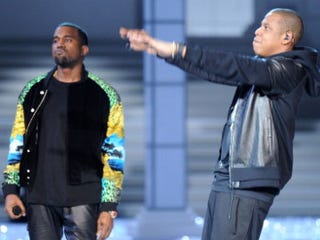 Essence magazine is reporting that Kanye West told Chicago concertgoers on Saturday that he was unfazed by the fact that he didn't snag nominations for album or record of the year for the 2012 Grammys.
"Something I figured out early today — because you know, everybody came up to me last night like, 'Congratulations!' because you know I'm leading the Grammy nominations this year. Like we always do at this time," said West.
"But, people say 'You ain't got 'Album of the year' or 'Record of the Year.' But I figured it out. That's my fault for dropping 'Watch the Throne,' and 'Dark Fantasy' the same year. I should have just spaced it out a little bit more," West admitted.
It's good to see West looking at the glass half full instead of half empty. After all, he is leading the pack with seven nominations. That is not exactly a snub.
Read more at Essence.