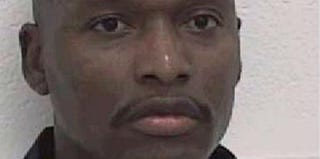 Updated 5:39 p.m. EDT: A Fulton County, Ga., judge granted Hill a temporary stay of execution to give her more more time to consider a new state law that shields the identities of those who make and supply Georgia's lethal-injection drugs, the Atlanta Journal-Constitution reports.
Earlier:
A man convicted of killing two people is scheduled to be executed tonight, despite his attorneys' arguments that he should be protected by a Georgia law that bans capital punishment for mentally disabled inmates, Reuters reports. Warren Lee Hill, 53, will die by lethal injection at 7 p.m. EDT if a last-minute appeal to state officials by his legal team, human rights activists and mental-health advocates is not successful.
Hill's attorneys argue that he should not be executed under Georgia's law that bans capital punishment for mentally disabled inmates. State prosecutors say that early examinations showed that Hill has the capacity to understand his execution and argue that it should move forward.

According to court records, Hill scored 69 on one intelligence test and in the 70s on other examinations.

Mental disability is generally defined as having a score of 70 or below on intelligence tests, Hill's attorneys said.

In February, Hill's lawyers filed affidavits in a Georgia court by three doctors who found Hill competent 13 years ago but who now believe he is mentally disabled.

In the affidavits, one doctor called the earlier evaluation for the state "extremely and unusually rushed" while another said his opinions were "unreliable because of my lack of experience at the time."

A third doctor cited "advances in the understanding of mental retardation" since 2000.

However, in court documents, the state of Georgia said the three state doctors reviewed "extensive materials" before concluding in 2000 that Hill was not mentally disabled, and were thoroughly cross-examined by Hill's attorneys at the time.
Read more at Reuters and Amnesty International.
Like The Root on Facebook. Follow us on Twitter.