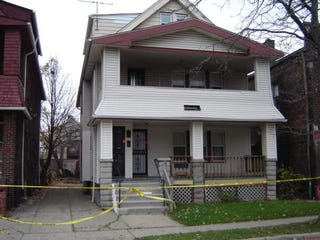 Convicted Ohio serial killer Anthony Sowell will be put to death by lethal injection for murdering 11 women and strewing their bodies across his property, a judge ruled Friday, according to the Associated Press.
Judge Dick Ambrose made the ruling based on the sentencing recommendation of the jury that convicted Sowell of aggravated murder, the story says.
The sentence brings to an end the macabre case that had Cleveland on edge as black women began disappearing in 2007. Turns out, Sowell had lured them to his home with the promise of alcohol or drugs. He buried their bodies on the property, disposing of them in garbage bags and plastic sheets, the AP says.
Police investigators tracked him down in 2009 after a woman escaped, saying she had been raped there. They found the bodies of women who were nude from the waist down.
Jurors sat through weeks of disturbing and emotional testimony before convicting Sowell. They saw photographs of the victims' blackened, skeletal corpses lying on autopsy tables and listened to police describe how their bodies had been left to rot in Sowell's Cleveland home and backyard.
Sowell took the stand Monday to make an unsworn statement in which he apologized.
"The only thing I want to say is I'm sorry," Sowell told the jury. "I know that might not sound like much, but I truly am sorry from the bottom of my heart."
The jury didn't buy it: They said his statement, which was guided by questions from [defense lawyer John] Parker, sounded rehearsed and lacked remorse.
Some things are better left unsaid. 
Read more at Fox News.
In other news: 'Fab Five' Player Arrested.