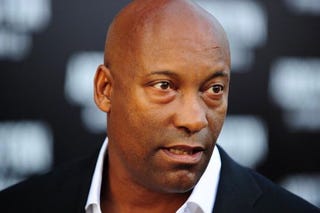 EURweb is reporting that filmmaker John Singleton is in negotiations to possibly direct the a biopic of legendary rapper Tupac Shakur. Singleton directed Shakur in 1993's Poetic Justice, in which the late rapper starred with Janet Jackson. Singleton and Shakur became close friends during filming.
Previously the project was under the direction of Training Day director Antoine Fuqua, who walked away from the project.
John Singleton seems like the perfect person to direct a biopic on Shakur. Hopefully negotiations will work out, and Singleton and Shakur will return to the big screen once again.
Read more at EURweb.
In other news: Sulaimon Brown: Committee Finds Job Claim Questionable.