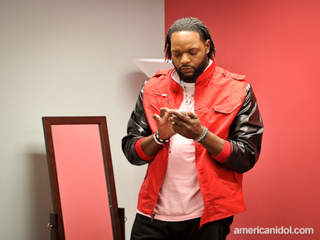 Jermaine Jones on Friday joined 10 black former American Idol contestants in a racial discrimination lawsuit, citing his disqualification from season 11 for having outstanding arrest warrants in New Jersey, ABC News reports.
"I was and continue to be appreciative of the opportunity to perform as a Top 10 contestant during Season 11 of 'American Idol,' which was once considered the world's biggest stage for up-and-coming recording artists," the 27-year-old singer said in an exclusive statement to ABC News. "And I wanted to believe that my humiliating public disqualification in March 2012 was just part of the show and an experience that could be internalized and ultimately forgotten. But I realize now, with the support of my family and friends, that Equal Rights under the law (or in this case, under contest rules) is something we must always strive for and never take for granted."
He is represented by James H. Freeman, the lawyer for the 10 other former Idol contestants. Freeman filed a motion requesting permission to amend the lawsuit to include the New Jersey singer, who, according to ABC News, "had been dubbed the 'gentle giant' for his resonant baritone voice and 6'8" frame."
Daniel Petrocelli, an attorney representing the FOX network, which broadcasts Idol, and the show's production company, 19 Entertainment, declined to comment, the news station reports.
Initially, Jones was quoted in February 2013 as saying that he wanted no part in the suit, although the plaintiffs said his disqualification had been emblematic of the show's "pattern and practice" of discrimination against black males.
But a person familiar with Jones' situation told ABC News that Jones at the time was still trying to determine whether to join the lawsuit.
Read more at ABC News.