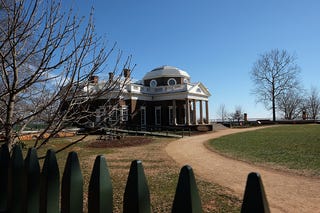 As the country slowly, surely comes to grips with its slaveholding past, one of its most iconic buildings is set to do the same.
Monticello, the estate where President Thomas Jefferson lived (immortalized on the back of our nickel), will now give the enslaved young woman and alleged "mistress" of Jefferson "a room of her own."
The Washington Post reports that the room where historians believe Sally Hemings slept (just feet from Jefferson's bedroom) was turned into a restroom in 1941. This was erhaps an oversight, perhaps it was done purposely.
Hemmings has always evoked a visceral response from those who would not have one of our most famous president's legacies—the man who wrote that "all men are created equal"—besmirched by a slave girl who bore children for him.