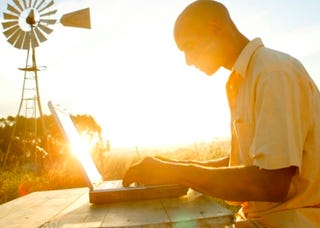 Last week, when the Federal Communications Commission voted to approve a $4.5 billion fund for extending high-speed Internet service to millions of Americans who lack broadband access, it seemed like a victory for disadvantaged communities.
"We are taking a momentous step today … to ensure that all Americans have access to affordable and advanced communications services," FCC Commissioner Mignon Clyburn wrote in a statement on the ruling, which allocates money from the commission's Universal Service Fund to private companies so they can expand broadband infrastructure to cutoff rural households.
Until now the fund only subsidized rural telephone service, but it's finally been modernized to match today's more relevant technology. "The painful truth of the matter is that there are 18 million Americans who have not fully benefited from our current universal service policies, and that is unacceptable," Clyburn continued. "They remain the 'have-nots' of the broadband world, who I am determined will benefit the most from our action today."
The ruling was also in line with President Obama's broadband plan to get 98 percent of the nation connected to the Internet within five years. "We've always believed that we have a responsibility to guarantee all our people every tool necessary for them to meet their full potential," the president said in a February speech at Northern Michigan University. "In a 21st-century economy, that has never been more important. Every American deserves access to the world's information."
The Funding Disparity
Put that way, the FCC decision to fund the rural expansion of broadband sounds like a no-brainer. Who could object? Well, some members of the civil rights community. Their disappointment lies in the argument that, in reality, the ruling overlooked the more pressing needs of low-income Americans.
The Leadership Conference on Civil and Human Rights — a coalition of more than 200 organizations, including the National Urban League, NAACP and People for the American Way — has made repeated appeals for the FCC to allocate a fraction of the Universal Service Fund to Lifeline, a $1.2 billion program that gives credits (an average of $10 a month) to help eligible low-income Americans pay their phone bills. If the FCC's goal is to expand Internet access, the Leadership Conference says that more financial assistance for the poor — not a singular focus on broadband infrastructure — would benefit far more people.
"It's not that we don't care about rural communities, but from our perspective a really important component is helping folks who don't have enough money to pay for broadband to get that money to pay for broadband," Cheryl Leanza, co-chair of the Leadership Conference Media and Telecommunications Task Force, told The Root.
"There are a lot of reasons why people don't have broadband in their homes," Leanza continued. "But if you look at the statistics, it turns out that 30 percent of Americans have access to broadband infrastructure but don't subscribe, while only 5 percent of Americans don't have a wire at their house. And yet, we have $4.5 billion going annually to this tiny 5 percent deployment problem, and only $1.2 billion goes to a problem which is suffered by a lot more people."
Conflicting Reports?
The amount of money spent on expanding broadband infrastructure versus making it affordable would seem to contradict the FCC's own research, conducted in recent years as they've embarked on creating a national broadband policy. A 2010 FCC survey (pdf) found that African Americans and Latinos trail behind other races in broadband access, and examined the challenges of Americans who do not use the service. The study concluded that cost led the way at 36 percent, followed, at 22 percent, by a lack of digital literacy.
Other studies, however, netted different results. A 2010 report by Brilliant Corners Research & Strategies on the least plugged-in demographic groups found that the single biggest reason African Americans and Latinos didn't subscribe to broadband was that they didn't think the Internet was relevant to their lives, followed by a lack of access to computers. A 2010 Commerce Department analysis (pdf) similarly found that most Americans without broadband at home didn't subscribe because they saw no value in it (38 percent), with the expensive cost coming in second (26 percent).
Leanza points out that although results vary, cost is always among the top factors. "It's one of those things where, if you read enough of these studies, it's hard to say definitively that it's not about cost," she said. "Usually people have multiple reasons for why they don't have broadband. One, they don't think it's relevant, and then, two, they don't have the money. So if they had [enough] literacy education to [make them] feel like they would want the service, then cost might become more of a barrier. It's a chicken-or-the-egg situation."
A Matter of Priorities
Meanwhile, the Obama administration often frames its focus on broadband expansion as something that will benefit low-income communities. "Many rural communities have lower incomes, higher poverty rates, worse health outcomes and lower educational attainment than urban and suburban areas," stressed an August White House report on economic security in rural America, which highlighted broadband expansion as a way to combat such challenges.
Leanza offers several explanations for the FCC's concern with getting wires to the last few unconnected Americans. One major factor is politics. "There is the influence of rural and remote senators who take a strong role in this policy," she said, referring to the work of former Alaska Sen. Ted Stevens and Hawaii Sen. Dan Inouye in leading the Senate Commerce Committee, vigilantly ensuring more infrastructure for rural Americans. "There are legitimate reasons why rural Americans need the same infrastructure as everybody else. But that program is just very strongly embedded in communication policy."
And it's perhaps no coincidence, said Leanza, that rural broadband expansion doesn't have the same "handout" political overtones that often rise up when politicians talk about helping low-income people. Finally, although in both cases the money goes directly to the phone companies, they benefit more financially from infrastructure expansion. "With Lifeline they have to market to low-income people, keep track of eligibility and do other things that make it less convenient for them," said Leanza. "They're often trying to get some of the administrative burdens of Lifeline off their plate, while they're very strongly in support of infrastructure money."
What's Next
For all the organizing to put more funding toward Lifeline, there's one glaring problem with the program itself — currently you can only use it to buy telephone service, not high-speed Internet. The FCC has stated its intention to modernize the program, but change has been slow.
The promising news is that the commission will hold another regulatory proceeding by the end of the year, specifically about improving Lifeline. "We're still organizing because one of the top priorities is making sure that the program is fully switched over to high-speed Internet," she said. "The government says it's trying to increase broadband adoption, and the one program we have that might help low-income people who really need it doesn't apply to high-speed Internet."
But given that the FCC just expanded its infrastructure program to include broadband last week, however, the expectation is that the commission will do the same in the forthcoming Lifeline ruling. "From our perspective, if they could figure out how to get there for the infrastructure program, they can figure it out for the Lifeline program."
And with 30 percent of Americans already wired in their homes but choosing not to subscribe, it's an urgent issue to address. "These telecom issues are front and center in terms of the civil rights agenda," said Leanza. "We all want jobs, education and healthcare. But the fact of the matter is that all of those things are going to come via this new technology, and the folks that can't use it are just going to get further behind. These issues integrate with every other area you could think of, in terms of social justice."
Cynthia Gordy is The Root's Washington reporter.