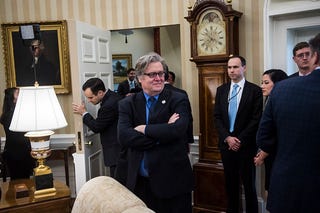 Hey—you heard about the good news? Word on the White House streets is that "alt-right" white supremacist fanboy and self-proclaimed "economic nationalist" Steve Bannon might be out of President Donald Trump's inner circle and (hopefully) the White House altogether as Trump's son-in-law, Jared Kushner, consolidates power.
The Wall Street Journal first raised the possibility Friday, reporting that both Bannon and White House chief of staff Reince Priebus might be relieved of their current roles—Priebus because of the rocky first 100 days of Trump's presidency; Bannon because of West Wing infighting with Kushner and top economic adviser Gary Cohn, who may be up for Priebus' job.
As further evidence of Bannon's fall from grace, CNN noted that during Trump's dinner with President Xi Jinping of China, the table seating may have indicated a "telling tableau."

Kushner was seated next to Jinping's wife—two seats down from Trump himself—while Bannon was seated further down, "sandwiched between two Chinese officials."

The tea? While Bannon still has a seat at the table, his position seems to be slipping.