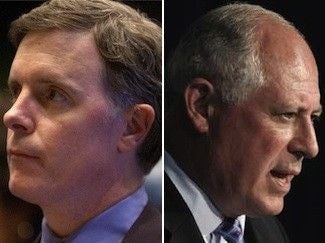 Dan Hynes, Illinois state comptroller, and current governor Pat Quinn are fighting for the affections of Black voters in the state in that odd "blacker than thou but still white" thing politicians do when election season rolls around. From The Washington Post
In the final days of the contest, the men, both of whom are white, have taken the fight to the African American community, sputtering charges and countercharges of race-baiting as they brawl over the words of a revered dead black mayor, and whether Hynes for years ignored criminal activity in a historically black cemetery.

…

The dynamics of the race imploded a couple of weeks ago when Hynes, 41, aired a campaign ad showing a clip of Mayor Harold Washington — who died in 1987 and is an iconic political figure here — talking about why he fired Quinn from his post as revenue director. In the 24-year-old interview, Washington called Quinn an "undisciplined individual" and said his greatest mistake in government was hiring Quinn.

Quinn, clearly shaken, spent a week trying to deal with the fallout. Initially, it did not look as if he could recover. But in the past 72 hours, the governor has gone on the offensive. A number of high-profile African American supporters — such as Jesse L. Jackson and Rep. Jesse Jackson Jr. (D-Ill.), his son, — jumped to Quinn's defense, accusing Hynes of trying to divide the black community. Infuriating to some African Americans was that Hynes's father, Tom, a former Cook County assessor, briefly left the party to mount a third-party candidacy in 1987 against Washington.

As part of his push back, Quinn is flaunting new revelations that the office of comptroller — which has oversight for cemeteries — knew as early as 2003 that human remains had been found at Burr Oak Cemetery, a historic graveyard near Alsip, Ill., where Emmett Till, the civil rights-era murder victim, is buried. Last summer, it was discovered that some overseers were illegally exhuming bodies to resell plots, and putting remains in mass graves. Hynes denies knowing this was going on.
Read more on the dust-up over at WaPo
Listen, we all know no one cares about Black people more than politicians seeking office. There's a commitment and honesty there that you just don't find anywhere else. What either will actually do for the Black communities in Illinois, particularly Chicago, is probably the usual but The Buzz figures perhaps it is the thought that counts. Or something.