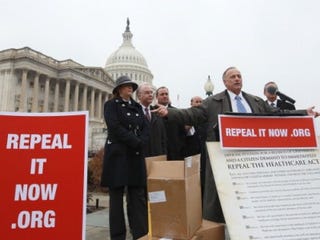 By Felicia Sonmez and David A. Fahrenthold
The House on Wednesday evening passed a bill that would repeal the national health care overhaul, approving the measure on a largely party-line vote.
The repeal bill passed 245 to 189, with three Democrats — Reps. Mike Ross (Ark.), Dan Boren (Okla.) and Mike McIntyre (N.C.) — joining Republicans in backing the measure. The three were among the four Democrats who voted earlier this month to advance the measure. Rep. Gabrielle Giffords (D-Ariz.), who remains in serious condition following this month's mass shooting in Tucson, was the only lawmaker not voting.
The bill's passage came after Democrats unsuccessfully staged an eleventh-hour vote in an effort to derail the Republican-sponsored measure.
The Democratic move, which would have made the repeal effort ineffective unless a majority of lawmakers gave up their federal health care benefits within 30 days of the bill's passage, fell short in the GOP-led House.
While the repeal passed the House, ultimately, it is expected to fail.
To actually repeal the law, Republicans would need the approval of the Democrat-controlled Senate and President Obama, unless they have enough votes to override his veto. They are not likely to get that approval.
That made Wednesday's debate look like a dress rehearsal for an entirely different discussion: not whether the bill should be repealed, but how it might be changed.
Read the rest of this article at the Washington Post.