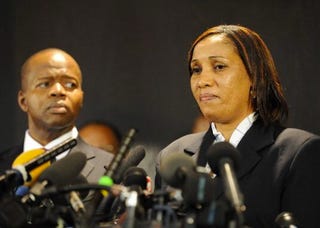 News One is reporting that Nafissatou Diallo, the hotel maid who accuses ex-International Monetary Fund boss Dominique Strauss-Kahn of sexual assault, has sued him Monday over what she calls a "violent and sadistic" attack in an upscale suite that left her life "in shambles."
Lawyers for the maid, Guinean immigrant Nafissatou Diallo, wrote in the lawsuit that Strauss-Kahn "intentionally, brutally and violently sexually assaulted Ms. Diallo and in the process humiliated, degraded, violated and robbed Ms. Diallo of her dignity as a woman."
The lawyers, Kenneth Thompson and Douglas Wigdor, promised to tell a jury about other instances when Strauss-Kahn allegedly sexually attacked women in hotel rooms and apartments, coerced employees into complying with sexual demands, or accosted women with inappropriate sexual remarks and tried to get them to perform sexual acts.
They said that the lawsuit, seeking unspecified damages, would "redress the violent and sadistic attack by defendant Strauss-Kahn on Nafissatou Diallo" when he allegedly assaulted her on May 14 at the Sofitel hotel in midtown Manhattan.
Good for Diallo for seeking redress in civil court, since the criminal court appears to be failing her. If DSK sexually assaulted her, then he should not be allowed to get off the hook because of a smear campaign that was promoted by mainstream media. It will be interesting to see how this plays out and if DSK will finally realize that his reputation for being a "seducer" at best is played out.
Read more at News One.
In other news: Real Madrid Signs 7-Year-Old Soccer Phenom.