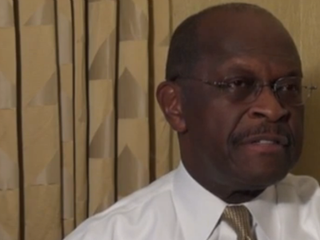 Herman Cain talks to Clarence Thomas' wife: Ginni Thomas got an exclusive interview with Cain for the Daily Caller. She peppers Cain with questions like, "Are reporters setting you up to be guilty until proven innocent?" and "Is campaigning in Washington, D.C., a disorienting experience?"
Chris Rock talks early days with Eddie Murphy: Chris Rock is the latest comedian to talk to Marc Maron about his life in comedy on the podcast WTF. In a clip from the episode that will be released on Thursday, Rock talks about his early days doing stand-up at a time when Murphy was one of the most established black comedians and white comedians dominated the field. Listen at the Huffington Post.
New talk show for Queen Latifah: The rapper, actress and Cover Girl spokesmodel is working with Will Smith and Dr. Oz to develop a syndicated talk show.
African designers you should know: What's that? You can't name a single one? Not to worry. A new book, New African Fashion, by Helen Jennings is the place to start exploring collections and learning about relevant designers from the continent.
In other news: Film Aims to Shame Absent Black Dads.