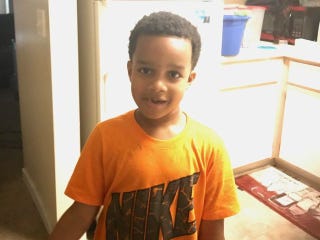 UPDATE 9:14 p.m. ET: Three suspects have been taken into custody in the shooting death of 6-year-old Kingston Frazier. They will be charged with capital murder, says Madison County, Miss., District Attorney Michael Guest.
UPDATE 12:41 p.m. ET: Dwan Wakefield, a person of interest in the killing of 6-year-old Kingston Frazier, is in the custody of the Madison County Sheriff's Dept, the Clarion-Ledger reports.
DeAllen Washington, another person of interest in the case, is still at large.

UPDATE: Kingston Frazier, 6, was found dead inside of the stolen vehicle. He sustained a single gunshot wound. The Clarion-Ledger reports that Kingston was sitting in the backseat of the car when he was shot.

UPDATE: Kingston Frazier has been found inside of the stolen vehicle and the Amber Alert has been canceled.
According to WLBT, his condition is unknown.
Earlier:

The Mississippi Bureau of Investigation has issued an Amber Alert for Kingston Frazier, 6, who was last seen about 1:15 a.m. Thursday morning when the gray 2000 Toyota Camry (license plate HYX 783) he was in was stolen from a grocery store parking lot.
Conflicting reports have Kingston's age listed as 7-years-old.
According to the Hinds County Sheriff's Department, Ebony Archie, Kingston's mother, left her Camry running with Kingston inside while she briefly went inside the Kroger grocery store located at 4910 I-55 North in Jackson.
While Archie was inside, two men in a two-door 2014 Honda Civic Coupe (license plate MDV 361) with a dent on the side, pulled alongside her Camry and the man in the passenger seat jumped into Archie's car and drove away with Kingston inside.
Kingston is described as a black male, 3'9 inches tall, weighing approximately 40 lbs. He has black curly hair and brown eyes. He was last seen wearing a white tank top shirt, khaki pants and black and gold Jordans.
Hinds County, JPD and Mississippi Bureau of Investigation are working the case, the Clarion-Ledger reports.

Anyone with any information regarding Kingston Frazier's whereabouts, including any information on the cars involved, please call the Mississippi Bureau of Investigation: 855-642-5378.
Let's get this baby home.