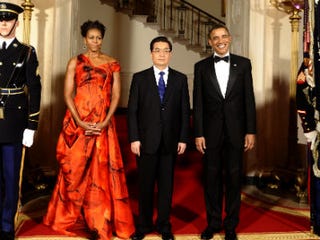 Michelle Obama probably puts more care into choosing her gowns for state dinners than Oscar nominees put into their red-carpet gowns. It's not just about fashion — it's political.
When Obama wore a blue, grecian number to the state dinner in honor of Mexican President Felipe Calderon, Glenn Beck implied, in his typical classy style, that the dress was too revealing. Might he have said that about Laura Bush or Sarah Palin? I think we know the answer. At last night's event, in honor of Chinese President Hu Jintao, Obama wore an Alexander McQueen in a meaningful color — red symbolizes good luck in China. Of course, it's taken no time for her to be accused of being a Communist and of disrespect (apparently, the black splotches on her dress were a thoughtless insult to oil-spill victims). She can't win over everyone, but at least she looked fabulous.
Read more at Media Matters.
In other News: Is Cleric's 1997 Letter the 'Smoking Gun' in Molestation Cover-Up?
Lauren is a former Deputy Editor of The Root.