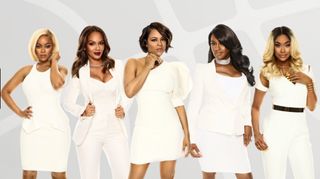 At one point during the season premiere of Basketball Wives, the returning Evelyn Lozada asks a very poignant question: "Why the fuck am I here?" One of my favorite colored-people proverbs comes to mind:
A check is a check.
Although Lozada successfully managed to flee VH1 and go on to OWN to star in her own show, the family-themed and far less contentious Livin' Lozada ended after two seasons. So, while Lozada is presumably not hurting for much as far as money goes (being on TV for a while plus being engaged to a baseball player ought to come with a certain cushion), she is a television personality. It helps to be working on a television show when you're a television personality. Plus, it is very likely that VH1 waved a wad of money her way to convince her to come on home and help save a series on the decline.
Last year I wrote "Basketball Wives LA: The Thrill Is Gone," which addressed how dull and draining the show had become. Evelyn may have briefly wondered why she subjected herself to this show all over again, but plenty of longtime viewers didn't give a shit. We're just glad you're back, OG Puerto Rican royalty.