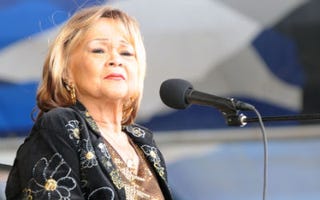 Soulful vocalist Etta James has been hospitalized in California with a potentially fatal blood infection, according to reports.
James, 73, is perhaps best known for what has become a favorite wedding anthem, "At Last," and reportedly suffers from a number of other serious ailments, including leukemia and dementia. Currently James is being treated for sepsis at an undisclosed Southern California hospital, according to her son, Sametto James. This is the second time James has been stricken with blood poisoning.
James' son reassured fans of the Rock and Roll Hall of Fame inductee that she will likely recover from this latest health scare, saying, "Right now she's doing a lot better."
Read more at the Washington Post.
In other news: Report: Medicare Running Out of Funds in 13 Years.