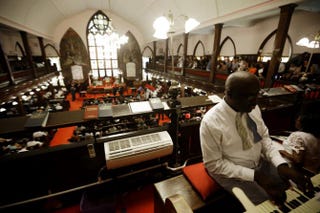 Emanuel African Methodist Episcopal Church, the historic Charleston, S.C., church that was struck with tragedy last June after a gunman killed nine people during Bible study, has a new pastor, the Associated Press reports. 
The Rev. Betty Deas Clark was appointed pastor Saturday, making her the first female pastor to lead the church. On Sunday, Clark delivered her first sermon, which was one of hope, in which she said that the church's best days were ahead, the newswire notes. 
Clark takes over from the Rev. Clementa Pinckney, who was also a state senator in South Carolina, and one of the victims of the shooting, which sparked national outrage and racial tensions. Dylann Roof, a white man who is also accused of posting a racist manifesto online that was found after the shooting, has been charged in the deaths. 
Read more at the Associated Press.