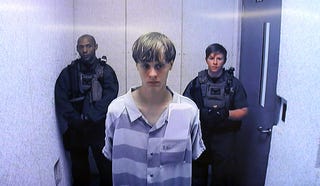 White supremacist Dylann Roof has pleaded guilty to state murder charges in the Charleston, S.C., church massacre of nine black worshippers; in doing so, he is forgoing a second death-penalty trial.
As the Associated Press notes, the move now leaves Roof awaiting execution in federal prison and also spares his surviving victims and the families who lost loved ones the burden of going through a second trial. At the beginning of the year, Roof was sentenced to death by a federal jury on 33 counts for the June 2015 attack on the Emanuel African Methodist Episcopal Church.
Last month it was reported that Roof was expected to plead guilty to the state charges stemming from his hate-filled attack at Mother Emanuel. Originally, 9th Circuit Solicitor Scarlett Wilson was pursuing the death penalty for the nine murder charges, but she later revealed that she would be accepting the guilty plea instead.
"I write with great news that the State's case is ready to wrap up. As I told you towards the end of trial and in other updates, at this point our goal is to provide an insurance policy to the federal conviction and sentence. The most effective way to do that is to secure a guilty plea for a life sentence and get the defendant into federal custody," Wilson wrote in a letter.
Wilson stressed that "the goal is to get [Roof] into federal custody so their sentence can be imposed."