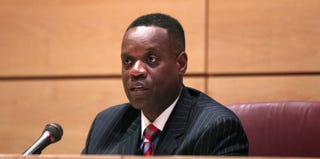 The Associated Press is reporting that on Thursday, Detroit became the largest city in the U.S. to file for bankruptcy, after the state-appointed emergency manager filed for Chapter 9 protection.
The filing, which had been feared for months, put the city on an uncertain path that could mean laying off municipal employees, selling off assets, raising fees and scaling back basic services such as trash collection and snow plowing, which have already been slashed.

"Only one feasible path offers a way out," Gov. Rick Snyder said in a letter approving the move.

Kevin Orr, a bankruptcy expert hired by the state in March to stop Detroit's fiscal free-fall made the Chapter 9 filing Thursday in federal bankruptcy court.

Detroit lost a quarter-million residents between 2000 and 2010. A population that in the 1950s reached 1.8 million now struggles to stay above 700,000. Much of the middle-class and scores of businesses also have fled Detroit, taking their tax dollars with them.

In recent months, the city has relied on state-backed bond money to meet payroll for its 10,000 employees.
Read more at the Associated Press.