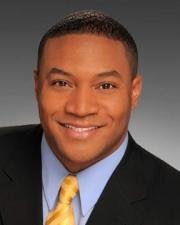 The AJC.com is reporting that Daryl Hawks, a sports anchor from Chicago who was in Atlanta to cover Game 6 in the Bulls vs. Hawks series, was found dead in a downtown hotel room Thursday morning.
The cause of Daryl Hawks' death has not been disclosed, but no foul play is suspected, said Sgt. Curtis Davenport of the Atlanta Police Department. The Fulton County medical examiner's office said an autopsy is pending.
Hawks, 38, was found around 9:30 a.m. after he missed a wake-up call, according to an article on his TV station's website, an NBC affiliate in Chicago.
He was staying at the Omni Hotel at CNN Center, Davenport said. He was rushed to an area hospital, where he was pronounced dead.
Hawks was a three-time Emmy Winner and former Marine. He leaves behind a wife, Sandy, and two children.
Read more at AJC.com.
In other news: Sarah Palin Knows the Words to 'Rapper's Delight,' Why We Should Support a Ban on Sagging Pants, and More.
Like The Root on Facebook. Follow us on Twitter.