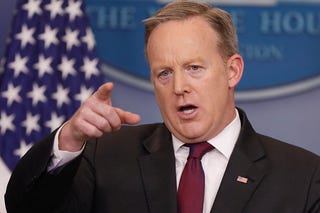 Apparently, President Donald Trump's regime White House barred several news organizations from attending an off-camera, informal press briefing today. CNN, the New York Times, the Los Angeles Times, Politico, BuzzFeed and most of the attending foreign press were reportedly blocked from attending the gaggle with White House Press Secretary Sean Spicer.

The Associated Press and Time magazine both boycotted the briefing in solidarity, and the White House Correspondents' Association is not taking too kindly to the incident.
Interestingly enough, conservative-leaning organizations like the Washington Times, One America News Network and the flaming trash that is Breitbart News were all allowed into the briefing.
And because there isn't enough irony to go around, this apparently also happened:
CNN reports that there was no immediate explanation for the block from the briefing. However, the network notes that just hours earlier, Trump spoke at the Conservative Political Action Conference, harshly targeting news organizations and denouncing much of the press as "the enemy of the people."