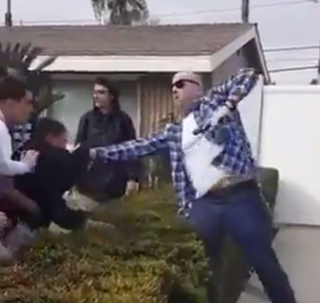 A civil lawsuit has been filed against an off-duty Los Angeles police officer who discharged his weapon during a filmed confrontation with a bunch of school children, prompting protests.
According to the Los Angeles Times, Christian and John Dorscht filed the complaint against Officer Kevin Ferguson last week on behalf of the parents of one of the teenagers involved in the Feb. 21 confrontation.
Cellphone footage of the incident shows Ferguson arguing with a group of teens because they walked across a neighborhood lawn in Anaheim, Calif. Ferguson can be seen in the video dragging a 13-year-old boy by his collar while the boy's friends plead with Ferguson to "let him go."
There's a brief back-and-forth between the teens and the officer. Another teen attempts to separate the struggling pair, but another boy then runs up and pushes the officer into and over a low hedge. The boy who tried to separate the officer and the 13-year-old appears to hit Ferguson, which is when Ferguson reaches into his waistband, pulls out a gun and fires.